Product Description
Low-Profile Platform, 30" X 31", 1000 Lb.
Rice Lake RLWS RoughDeck BDP Barrel Scale – Standard Model
With ramps that sit flush with ground, the BDP RoughDeck™ accommodates barrels, drums, and pallets. Indicator stand can be attached to a portability frame so vibration does not interfere with zeroing. Portability frame and caster engaging mechanism are below scale's live rails, for unconfined weighing of large items. Load cells and cables are recessed into structural steel channels and fully enclosed junction box is accessible from top.
Choose from a mild steel model with a diamond treadplate deck for industrial applications or a 304 stainless steel model with a smooth deck for hostile environments. The stainless steel model has optional welded-seal stainless steel load cells for corrosive or washdown applications. A variety of digital weight indicators are available for vivid weight display.
Standard Features
• Live siderails
• Top access foot adjustment holes
(holes are 1/2-13 threaded for lifting scale)
• Four adjustable stainless steel SUREFOOT support feet
• 30" x 31" or 36" x 37" weighing surface (not including side rails)
Mild Steel Models
• Treaded top plate
• Aluminum NEMA 4 junction box
• Alloy steel load cells
Stainless Steel Models
• Smooth top plate
• Stainless steel NEMA 4X junction box
• Stainless steel or stainless steel with welded-seal (IP67) load cells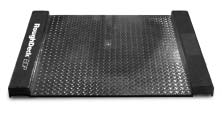 ROUGHDECK BDP SCALE
NTEP CERTIFIED
PLATFORM
PART # ........SIZE (W x L) ................CAPACITY....... Est. SHIP WT
Mild Steel
77962 ......... 30" x 31"...................1000 lb (500 kg)............... 205 lb (recommended for CO2 liquid fill)
77963 ......... 30" x 31"...................2500 lb (1250 kg)............. 205 lb
77964 ......... 36" x 37"...................1000 lb (500 kg)............... 265 lb
77965 ......... 36" x 37"...................2500 lb (1250 kg)............. 265 lb (recommended for inert liquid fill)
Stainless Steel
77967 ......... 30" x 31"...................1000 lb (500 kg)............... 205 lb
77968 ......... 30" x 31"...................2500 lb (1250 kg)............. 205 lb
77969 ......... 36" x 37"...................1000 lb (500 kg)............... 265 lb
77970 ......... 36" x 37"...................2500 lb (1250 kg)............. 265 lb
Stainless Steel with Stainless Steel Welded-seal (IP67) Load Cells
77971 ......... 30" x 31"...................1000 lb (500 kg)............... 205 lb
77972 ......... 30" x 31"...................2500 lb (1250 kg)............. 205 lb
77973 ......... 36" x 37"...................1000 lb (500 kg)............... 265 lb
77974 ......... 36" x 37"...................2500 lb (1250 kg)............. 265 lb
Product Videos
Custom Field
Product Reviews